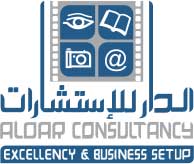 Al Dar is your one stop solution for setting up business in UAE. We are experts with a passion for innovation and for delivering practical, measurable results for our clients.
Setting up business is an integral decision, and we help our clients to take the right decision at the right time. With our expertise and experience we have registered over 200 companies in UAE.
With our assistance and professional service, we help our clients save their time, effort, and money.
Dar Consultancy's vision is to become one of the most trusted business consultancy enterprises in the UAE specifically and the Middle East and North Africa (MENA) Region potentially.